The Victory VAP Target Shaft has set a superior advantage in the target world. The ultra-small diameter and thick walled, 100% high modulus carbon is a perfect combination to shrink your group size and increase your scores. Victory's patented curing process constructs tighter tolerances that are unmatched and will give you the confidence needed when standing on the shooting line. The Target VAP's ultra-small outside diameter, coupled with match grade Tophat components, give you exceptional long range accuracy and wind bucking capabilities. The result is a breakthrough in target accuracy and simply the best target arrow on the market.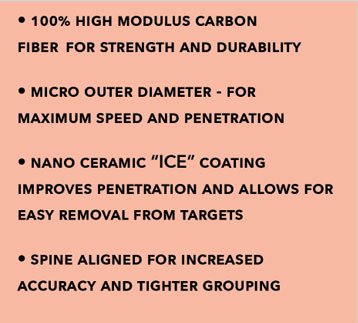 Included in the package are a dozen VAP F-nock (6 grain)
SE Archery offers a VAP Arrow package at $250. Details below
$250 VAP package includes
1 Pack VAP shaft
1 Doz Beiter Pin Nocks
1 Doz VAP Pin Adapter
1 Doz VAP Points
Package prices can be found here.
- Victory Archery